My girlfriend and I adopted Ragnar and Runa (Nightberry and Blackberry) a week and a half ago and we were so impressed with the Cat Therapy and Rescue Society.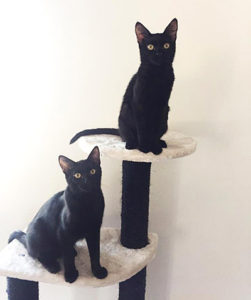 After over a month of applying for kittens at a different shelter and always getting passed over for another adopter (although our application was approved), we decided to look at different shelter options when we stumbled upon CTRS.
We filled out an application on Thursday morning, was emailed with information within hours, visited the kittens at Petsmart that night and we're so excited when we brought them home on Friday night!
Our adoption process was less than 48 hours. CTRS has an amazing philosophy and we are so impressed with everything they believe in. Our bonded pair are so happy to be home and they have made our lives whole! Thank you CTRS!